MASS EFFECT 2 - A BIOWARE / EA GAME
Mass Effect 2 starts roughly one month after the ending of the first Mass Effect game. You again take control of Shepard, commander of the Normandy spacecraft. In a dramatic opening few minutes the Normandy comes under attack from an unknown enemy ship while out on patrol, and during the subsequent attempts to save the crew, Commander Shepard is killed and the Normandy destroyed. Shepards' body is retrieved and through the Shadow Broker, obtained by the shadowy organisation Cerberus who then spend the next two years rebuilding Shepard. This is so that Shepard can be recruited by the leader of Cerberus, The Illusive Man, to lead the fight against the newest threat to the universe, The Collectors.
It is at this point that you must choose the class of character that you are going to play as. You must choose one of the six character classes and this determines the abilities and weapons available to you at the start of the game. These focus on the characteristics of the tech, biotic or combat areas that were introduced in the first game. These classes are Adept and Vanguard for this biotic characteristics, Soldier for combat focussed abilities, Engineer for skills from the tech area of abilities, Sentinel which combines both tech and biotic skills or Infiltrator which brings you a mix of abilities from combat and tech areas. I personally chose the Engineer class for my first run through, seduced by the ability to deploy a combat drone during battle.
Your characters back-story can be shaped by importing a game save from Mass Effect 1, where the major choices you made are reflected in the events unfolding in this game and the characters you meet and interact with. You also receive in game bonuses as a reward for the progress you made with your character in ME1 in the form of credits and resources. You receive even greater rewards for importing a completed ME2 character, meaning that you will receive bonuses for playing the game through again with your ME2 character.
You have complete freedom over the choices you wish your character to take and these are determined in a great part by the moral choices you make in the game. Performing good actions reward you with Paragon points and the bad actions reward you with Renegade points. While this is a system that will initially be familiar to Mass Effect veterans it has a marked improvement in this game mainly due to the consequences of your moral path. Not only does it open up unique conversation options for your character but it also gives you the option of interrupting cut scenes with unique Paragon ad Renegade actions. These range from offering a hug to an upset character, to deciding that you have heard enough of them so the best course of action is to kick them out of the window behind them. This system really brings the cut scenes to life and this unique way of altering the story really makes you feel like you a cutting a unique path through the universe.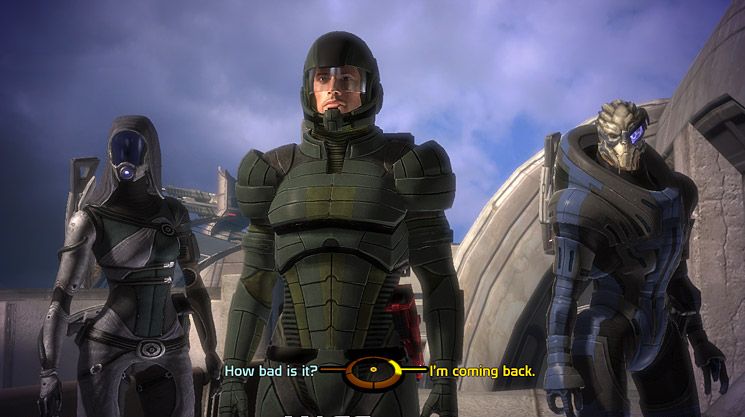 The main focus of the game is how Commander Shepard needs to explores galaxies to recruit the team he needs to fight the collectors. Using the in game galaxy map you must decide which allies to recruit and when, or you can simply explore all of the unexplored galaxies and planets in front of you. Each ally you recruit opens up new branches to the storyline and gives you the possibility of discovering unique missions based around the characters back story. This also brings the possibility of new upgrades to your weapons, armour and ship. By fully completing the storyline of each character you also open up the possibility of gaining their loyalty, which in turn can bring new abilities to both Shepard and the character involved and this loyalty plays a massive role in how the story develops.
If you choose to take your ship and explore the galaxies you can find hidden missions that range from in depth story driven missions full of exploration, to timed objective base missions which offer very precise objectives in a short time frame. Talking to seemingly unimportant minor characters can also unlock similar missions.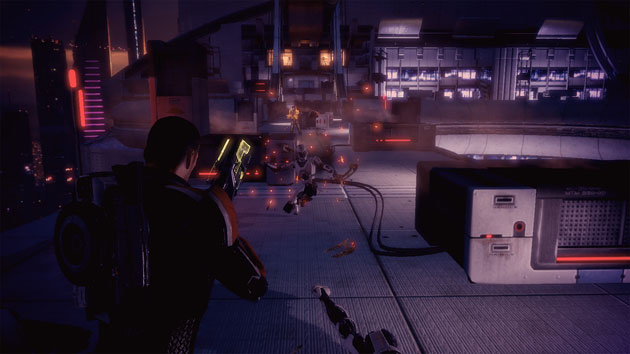 The two main resources of the game are credits (the in game currency) and resources. It is in the resource gathering that this game shows its RPG roots. You need to explore unknown planets and scan them to search for theses resources. They are then used for the upgrades you need for your weapons, armour and ship. They are four resources that you can gather and each one is used for upgrading a different area of technology. This is the games equivalent of scouring dungeons for enemies and equipment. It can be quite a grind but the ultimate reward is well worth the effort.
The planets you explore provide a rich and varied gaming environment. Gone is the awkward vehicle based exploration of ME1 and instead you are presented with more detailed areas to explore on foot. There is a good range of enemies that you are confronted by and most also have a rich history to be discovered.
The combat system follows the same lines set out in the first game with a squad of three characters using tactics and cover to overcome enemies. This combat can be tailored to how you want to play the game. For those who wish to blast there way through the enemies, you team mates can be set to automatically use their best powers and auto level up their abilities. For people who want a bit more depth you can turn the combat into a very deeply planned tactical experience where every move is micro managed by yourself. This option becomes the essential way to play this game if you want to play the on the harder difficulty settings.
Bioware have streamlined most of the elements that seemed over complicated in the first game. Gone is the fiddly inventory system, replaced by a streamlined system of upgrading weapons through researching new technology. Also you no longer have to worry about developing as many skills and abilities as the first game. To begin with you only have a few areas to focus on increasing your skill in, and although you can increase this number later in the game, it is done in such a gradual way as to leave it very accessible by any level of player.
In the second part of their Mass Effect trilogy Bioware have managed to improve on virtually every aspect of the game play introduced to us in the first game. Playing like an expensive Hollywood movie this game offers stunning graphics, a great story and an impressive voice acting cast (especially Martin Sheen as The Illusive Man); the only difference is that in this movie you can create a completely unique story every time you play. This is a world where your choices and actions really do have consequences, not only in this game, but will go on into Mass Effect 3. You have a vast universe to explore and rich characters to interact with and develop. All of which builds up to a number of unique endings that really will have serious, game changing repercussions for the next game. As soon as you have finished the game you will be struck by the desire to do it all over again. In fact, there is only one major flaw I could find to Mass Effect 2, and that is having to wait for Mass Effect 3. This is the first game I have ever played where I have no hesitation in awarding it a perfect 10/10.
Last edited by niteowl1980 on Sat Jan 30, 2010 12:27 pm; edited 1 time in total
Great review. I really wanted to pick this up on first day but have been stuck in bed ill.

I'm glad that they have stream lined the inventory as that was one of the things that grated on me the first time around.

XkurosakiX

unaddicted





XBOX Gamertag

: XkurosakiX


Number of posts

: 210


Age

: 31


Registration date :

2009-10-24


TGD Reputation :

8


TGD Elite Member Points

: 3383



Awesome review......can't wait to get started on both games.

GrahamOfTheDead

TGD ADDICT





XBOX Gamertag

: GrahamOfTheDead


Number of posts

: 4572


Age

: 37


Location

: Segedunum


Registration date :

2009-10-30


TGD Reputation :

109


TGD Elite Member Points

: 8936




sophosuni

Becoming Addicted





XBOX Gamertag

: sophosuni


Number of posts

: 1071


Age

: 38


Location

: Manchester, UK


Registration date :

2009-09-20


TGD Reputation :

40


TGD Elite Member Points

: 4439



Great review mate. Got this game on Thursday and it's absolutely awsome. I just can't wait for Mass Effect 3. Although I really enjoyed the first Mass Effect the second one has gone to a whole new level and is better in every way. I would also give it 10/10.

Kev Lar 1

TGD ADDICT





XBOX Gamertag

: Kev Lar 1


Number of posts

: 3260


Age

: 31


Location

: Acton, Sudbury, Suffolk


Registration date :

2009-01-26


TGD Reputation :

70


TGD Elite Member Points

: 7313



Well done mate, good work.
_________________




Great revie mate I am absolutely loving this game so far

Ba5sett

TGD ADDICT





XBOX Gamertag

: Ba5sett


Number of posts

: 3286


Age

: 36


Location

: Manchester


Registration date :

2009-09-18


TGD Reputation :

58


TGD Elite Member Points

: 6916



great review. i'am liking this game so far thought it was a slow start to the game.

harry haddack

Mildly Addicted





XBOX Gamertag

: harry haddack


Number of posts

: 998


Age

: 46


Location

: hinckley leicestershire


Registration date :

2009-01-17


TGD Reputation :

17


TGD Elite Member Points

: 4560



I've just finished Mass Effect 2 and I have to say Wow what an experience. It is probably the best game I have played on the xbox and niteowl got it pretty much bob on with the review. While he did make a point of saying how much better combat is, I think it is the defining improvement over the first game and proves that you can have combat mechanics as good as those found in Gears 1 & 2 within an RPG. The tactical depth in Mass Effect 2 combat is actually better than gears. The variation in squad mates and the combinations that suit differing enemies and tactical approaches make this game a joy and mean that you will be switching people around more regularly.

The improvement in presentation through higher res textures, better framerate and virtually no texture pop up is also massive over the first game making this easily the slickist and most beautiful game on the xbox. The level of little details such as view point comments, new stories and the simple variety of environments is also much improved adding massively more replayability over the first game's identikit side missions.

Serious props also have to be given to the script writers and voice actors as the story, while a little unoriginal and formulaic, is definitely up there with hollywood blockbusters and gives up its plot twists at a very clever rate to keep you wanting more right till the credits. Most of the main characters have been very well thought out and all the converstation options make them well rounded with great depth (with the slight exeption that many of them seem to have mommy daddy issues as a plot device). I would even go as far as to say as some of them such as Mordin, Thane, joker and Zaeed could be gaming classics. Some of the lines, especially those coming from Mordin and Joker, are brilliantly done with wit and emotion. There is even a lift joke between Garrus and Tali if you have them both in your party. The reappearance of several major and minor characters from Mass Effect 1 is also heart warming and it all feels cleverly worked in rather than just tacked on. The quicktime scripted interrupts for your alignment also feel natural and gives a bit more depth to your character while the rejigged alignment system feels more free rather than having to pick an allignment and stick to it all the way through.

However, While this game is pretty much a must play for anyone owning an xbox 360, it isn't perfect and I don't think it deserves a perfect 10. While the detractions are pretty minor with many of them being nit picks, they are still there and there are a few. Most noticably is the planet scanning. One boring grind bit of gameplay (it felt so good seeing the mako wrecked) has been replaced by another that doesn't even seem very logical in the story. I mean, you have an AI on board, how long would it take her to scan planets rather than you having to do it? I am also not completely happy with how much the RPG elements have been scaled back, especially the artificial way experience is handed out and the ease (entertaining though) of the mini games. Perhaps the two most irritating things though, is the small thing of helmet removal and the bigger element of star map travel. I liked being able to remove or replace the squads helmets on the fly and now having to stick to one look pretty much all the way through because its a hassle going up to Shepards room to do it. The DLC armours are also a bit of a let down on this point as well and meant that I avoided using them. My biggest irritation by some way is the naff star map travel. The way you used the star map in Mass Effect 1 was elegant, and well presented. The introduction of the tiny ship icon and unnecessary and fairly pointless fuel system seems like a cheap mobile phone game has been tacked onto a work of art. Definitely a case of messing with something just for the sake of it.

At the end of the day though the negative points in this game are pretty much nits to pick and don't really effect any of the major factors such as playability, replayability, artistic presentation or story. I'd give it a 9.5 and ask if you haven't played this yet, why the hell not?

sophosuni

Becoming Addicted





XBOX Gamertag

: sophosuni


Number of posts

: 1071


Age

: 38


Location

: Manchester, UK


Registration date :

2009-09-20


TGD Reputation :

40


TGD Elite Member Points

: 4439



Great review Niteowl and an awesome game best rpg i have had in a while and the story is still epic.

Dynamic Jackel

unaddicted





XBOX Gamertag

: Dynamic Jackel


Number of posts

: 20


Age

: 34


Registration date :

2009-10-09


TGD Reputation :

2


TGD Elite Member Points

: 3207



Currently going through it on my 2nd go-round. This time to get the last cheevo I need: INSANITY....lets just say it is rather...well...insane.

Getting Archangel took well placed headshots, each and every time...Horizon was supposed to be god awful to deal with, but I did that on my 4th or 5th try.

Wish they would let you save your progress midway through breather breaks of the waves they throw at you...

Tei Tenga

unaddicted





XBOX Gamertag

: Tei Tenga


Number of posts

: 14


Age

: 52


Location

: Chicago


Registration date :

2009-11-30


TGD Reputation :

2


TGD Elite Member Points

: 3143




---
Permissions in this forum:
You
cannot
reply to topics in this forum